10 decisions of Akufo-Addo that angered Ghanaians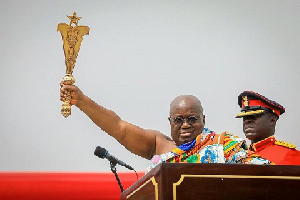 It's been over 2 years since Nana Akufo-Addo's government took over power from the previous Mahama-led administration.
Just like every other government, there were several decisions taken under his leadership that attracted public criticism and wrath.
Some decisions were rescinded after reactions from Ghanaians, others remained regardless.
Ghanaweb takes a look at some of these decisions that angered the citizenry:
110 Ministers
His choice of an elephant-sized government didn't go too well with Ghanaians. President Akufo-Addo got varied reactions with his decision to kick-start his administration with 110 ministers in March 2017.
Out of the total 110, 20 were Regional Ministers and their Deputies, 40 ministers for various ministries, with 50 deputies.
Before him, his predecessor, John Mahama had been criticized massively for appointing 88 cabinet Ministers.
Following the criticisms, however, the President emerged to defend his decision, noting that he will be vindicated when the public realizes that "the brouhaha is nothing, compared to the success."
Ghanaians were obviously not enthused about the move by Mr. Akufo-Addo and didn't hesitate to register their displeasure on social media.