UN sacked Professor Adei for objecting to LGBTQ – Lawyer Foh-Amoaning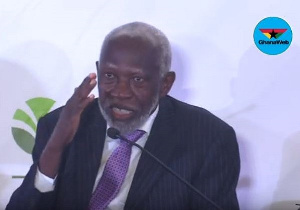 Staunch and relentless critic of the lesbian, gay, bisexual, and transgender (LGBTQ) community and their agenda, Lawyer Moses Foh-Amoaning has revealed that former Rector of the Ghana Institute of Management and Public Administration (GIMPA), Professor Stephen Adei was sacked from the United Nations (UN) because he was questioning activities of the UN that had to do with LGBTQ rights and lifestyles.
Mr Foh-Amoaning revealed this in an interview with Joy FM monitored by MyNewsGh.com on the current controversy surrounding the Comprehensive Sexuality Education (CSE) in Ghana and suggestions that opposers of it are intolerant and judgmental of the LGBTQ community.
"…The LGBT driven agenda goes through the United Nations, goes through all UN agencies now. Go and check the meaning of the word "diversity" in the United Nations now. Call Prof. Adei, former GIMPA boss. He was moved out because he was commenting on these matters. And the UN system now has diversity or LGBT motives throughout all their agencies. So if people say the UN brought CSE, Sorry! The UN system is already corrupt," he told Emefa Apawu.
Prof. Stephen Adei was the former head of the UN System in South Africa, UNDP Resident Representative in Namibia, Economist and Chief of the Directorate of Africa Bureau, UNDP before leaving the UN.
Ghanaians have almost unanimously rejected the CSE being taught children in the country and the few Ghanaians who seem to be in support of it have had to deal with condemnation from the overwhelming majority.
Moses Foh-Amoaning has been a lead critic of anything that has to do with LGBT rights or lifestyles.